When thinking about glowy skin our first port of call is a vitamin C serum. Like when you're feeling under the weather and in need of a boost, you turn to the options of vitamin C like adding a big class of OJ to your morning breakfast! In this blog we'll share the vitamin C benefits and, of course, the best vitamin C serum for you.
What are the benefits of vitamin C?
Often, you might be wondering but what is vitamin C good for? It's a hero ingredient which has been in the skincare industry since the beginning and now one of the most searched-for skincare ingredients – and we'll explain why:
Brightening. An obvious vitamin C benefit, but dull skin types need this ingredient! If you suffer from dark spots, pigmentation and uneven texture and tone, vitamin C has the ability to inhibit melanin production which reduces the appearance of these.
Protecting. Vitamin C = antioxidant, making it highly effective in protecting our skin from damaging free radicals we're exposed to on the daily. As well as neutralising these free radicals, this enables vitamin C to help against premature ageing, dullness, dry skin and other skin concerns.
Smoothing. Because who doesn't want smooth, glowing youthful skin? Vitamin C really is a powerhouse ingredient. Say goodbye to uneven texture and tone, fine lines and wrinkles!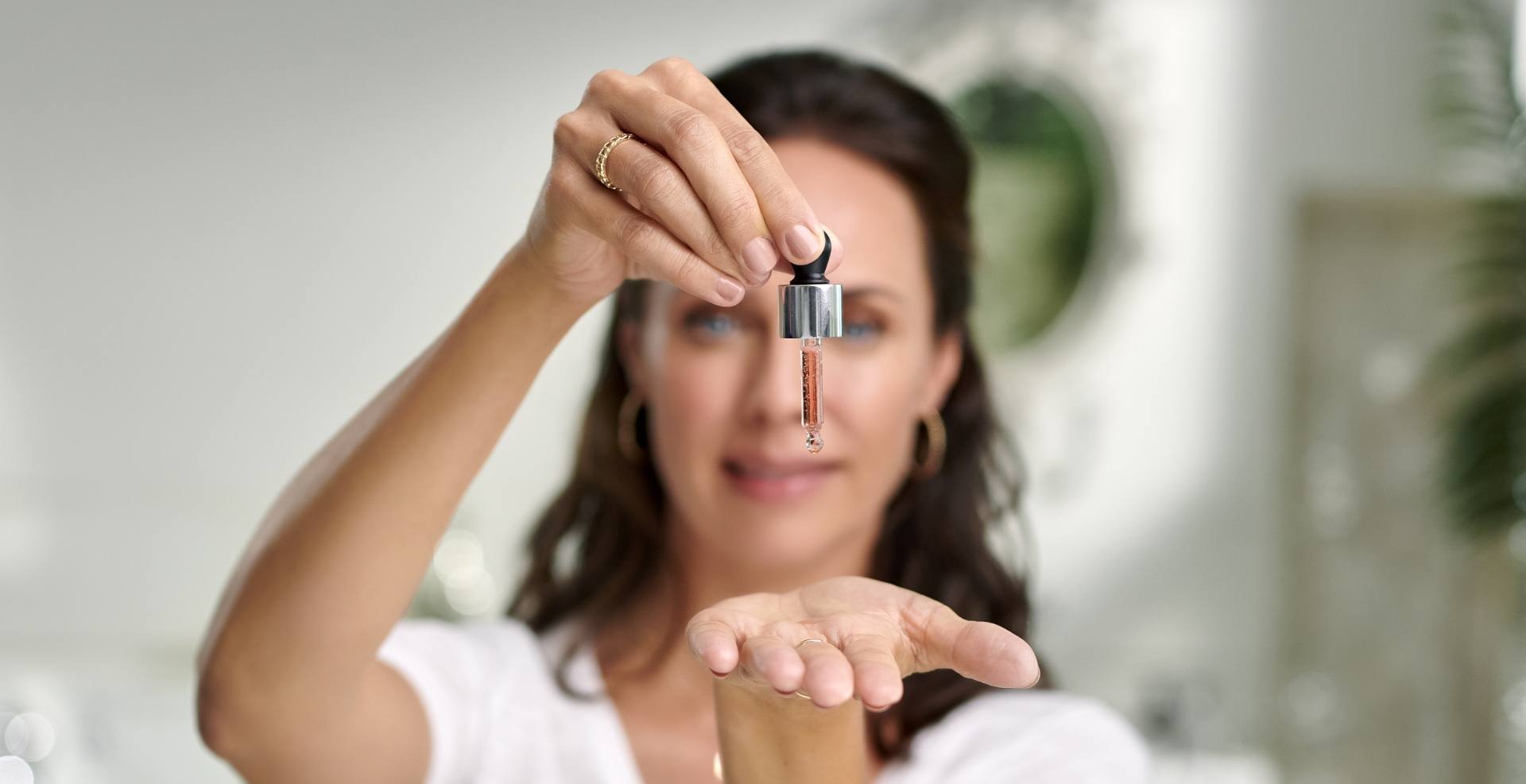 Where can I find the best vitamin C serum?
It's time to introduce LET'S CONCENTRATE Skin Glowing Serum! An exciting addition to the TEMPLESPA serum family for that ultimate glowy skin result. Our high-performance and innovative gel serum is enriched with vitamin C, sodium hyaluronate (super hydrating!) a blend of clever minerals and a selection of Mediterranean inspired extracts. Each designed to reduce the appearance of dull and uneven skin tone, help smooth texture and brighten and clarify.
How do I use a vitamin C serum?
After cleansing and toning, take your LET'S CONCENTRATE and apply a few drops to your palms before massaging into your skin. Allow a few moments between your serum and moisturiser to allow it to sink into the skin. Top tip: Try 'pressing' your serum into your skin rather than stretching and manipulating it, which can cause unnecessary redness and strain on the skin.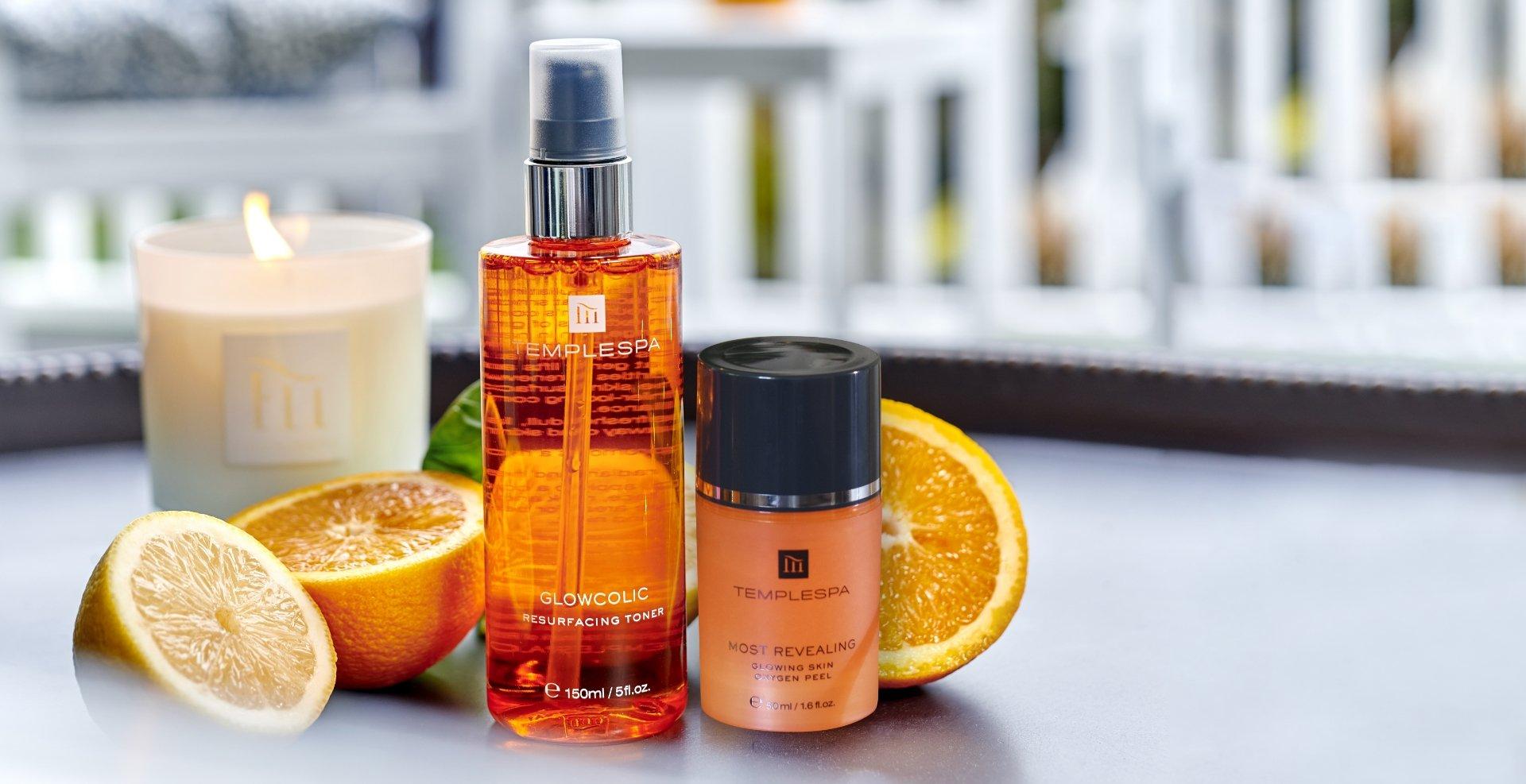 Where can I find other vitamin C skincare?
If you're thinking a vitamin C serum isn't enough and you want more glowy skin, you can try adding in these vitamin C rich skincare products:
GLOWCOLIC Resurfacing Toner. A brilliant multi-functional toner that exfoliates, nourishes and balances your skin's complexion in one. It borrows natural vitamin C from Mediterranean extracts with a fusion of glycolic, mandelic and lactic acids to buff away dead skin cells and reveal smoother, glowy skin!
MOST REVEALING Glowing Skin Oxygen Peel. This is the product you need for an instant glowy skin facial, perfect for nights out or when your skin needs a brightening boost. The gel turns to bubbles when applied to damp or wet skin, the blend of acids and vitamin C gently exfoliate away and leaves skin soft, smooth and brighter.