What does a facial toner do for my skin?
We're well versed with the great basics of any skincare routine that is cleanse, tone and moisturise, with the additional steps of masks, serums and eye treatments! But have you ever wondered about what a facial toner does for your skin?
You'll want to choose your toner carefully based on its benefits like hydration, exfoliation etc. and this would be factored in on what your skin needs in a daily routine. The ideal blend of two different types of toners would be a hydrating version in the morning, followed by an exfoliating option for the evening but the evening toner can be switched out for just a few times a week until your skin becomes more tolerant to exfoliating.
What a toner can do for your skin
Remove old traces of cleanser left behind. You may think after your double cleanse that your skin will be left clean and fresh, but we bet there's still some cleanser left behind along with makeup and impurities! Take your toner, add some to a cotton round and sweep over your skin for your cleansing finale.
Hydrates. Look out for super moisturising ingredients to help restore hydration levels for your skin, leaving it plump and nourished. A great tip here is to apply your toner to slightly damp skin to help aid the absorption of it and that extra hydration goodness!
Soothes and calms. With varying weather climates, skin can flare up and appear sensitive easily so a toner with soothing ingredients like chamomile, aloe vera and lavender can help settle it fast.
Exfoliates. Toners with acids like AHAs glycolic, lactic or BHA salicylic acid have exploded onto the market in recent years as an alternative exfoliation to physical scrubs. These are great to add to your routine a few times a week to keep on top of dead skin cells and are a more gentler option than traditional scrubs.
Prepares your skin for the next step. Regardless of what you're choosing your toner for, they will leave your skin fresh and ready for the next step of your routine.
What are the best TEMPLESPA toners?
We have two in our selection which tick all of the above benefits for your skin.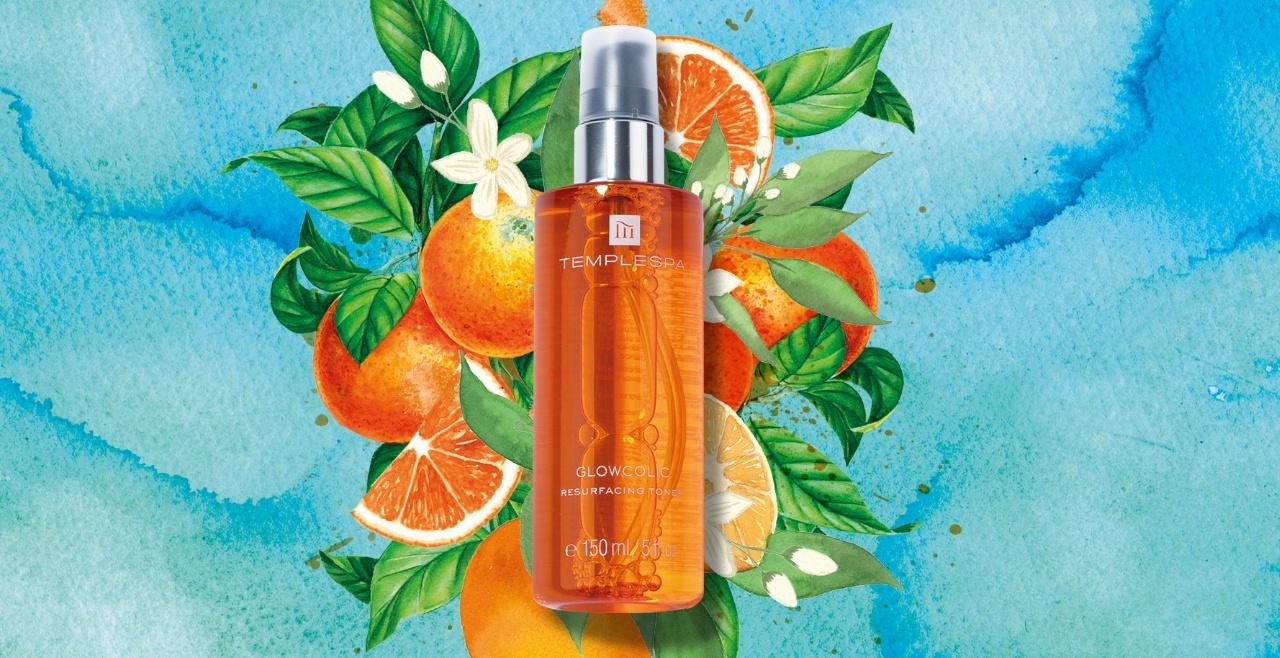 GLOWCOLIC Resurfacing Toner, $38
Introducing our best-selling exfoliating toner for brighter, smoother and more even skin. This hardworking toner features a blend of three alpha-hydroxy-acids (AHAs) glycolic, mandelic and lactic acids which work together to dissolve the 'glue' bonds holding dead skin cells to your skin so they can be lifted clean away and leave soft, smooth skin behind! They also enhance the cell turnover process, so you have fresh, new skin cells reaching towards the surface. Add in natural acids of grape, apple, lemon and orange which are also rich in vitamin c, and you have a brilliant exfoliating toner in your hands!
TONING ESSENCE Essential Mist Tonic Without The Alcohol, $30
This is a wonderful daily facial toner for your skin, it is packed with hydrating ingredients and is beautifully calming and soothing. The light and refreshing texture is inspired by ingredients from the Mediterranean gardens like tomato, melon, basil, rosemary and more! It refines and tones with a gentle formula that's pH balanced for healthy and happy skin. It can also multi-task as a hydrating facial mist, simply pop it in the fridge for an extra cooling feeling in the warmer seasons.