The Best Skincare Routine For Glowing Skin
If you asked us what our skin goals for the future would be, radiant and glowing skin all year round would definitely be featured. We've all experienced the results of a late night and not taking proper care of our skin, hello dullness and tired looking skin! We've asked the experts for the best glowing skin and how to make your skin glow – and fast.
There are many reasons for what can be causing dull skin such as a lack of exfoliation, vitamin C and hydration. You'll notice dull skin appears dry, has a rough texture and can even be affected by hormonal changes and the differences in the seasons. Here are a few of our easy steps on how to make your skin glow:

Cleanser
To target dryness that can cause dull skin, we'd recommend opting for a balm cleanser that's geared towards driving hydration levels up and restoring lost moisture from throughout the day.
As part of our glowing skin products collection, IN THE BEGINNING Deep Cleansing Melt is a stunning cleanser to tackle dullness fast. The unique buttery-crystalline texture melts as you massage, offering a deep exfoliation to unclog pores and lift away dead skin cells for healthy dewy skin again. Plus Mediterranean ingredients of olive, calendula, basil, clary and lavender protect and restore the skin's hydration levels again.

Exfoliation
If you're automatically thinking of those harsh gritty scrubs, just stop. Exfoliators have come a long way since then and chemical exfoliators are much more popular, gentle and just as effective on the skin.
The best toner for glowing skin from TEMPLESPA is our GLOWCOLIC Resurfacing Toner and it's easy to include in your skincare routine after cleansing, try using it a few times per week to build up your skin's tolerance first. We've included an infusion of AHAs glycolic, lactic and mandelic acids to buff away at dead skin cells, with Mediterranean extracts of grape, apple, lemon and orange all rich in natural acids and vitamin C, plus instantly refreshing the skin.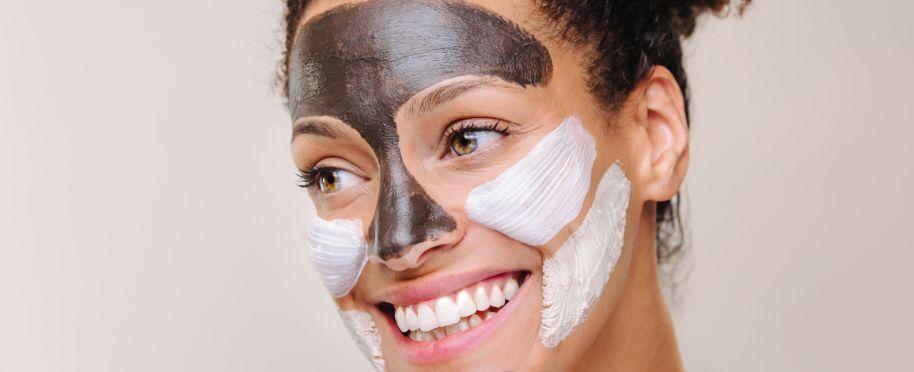 Mask
This step is the fun part where you can pamper yourself and give your skin a real treat. Masks are highly concentrated formulas with a blend of targeted ingredients for your skin concern. Bring on your best glowing skin yet!
An instant favourite for dull skin at TEMPLESPA is TRUFFLESQUE Hydrating Radiance Mask, as the name would suggest. Pure gold, black truffles and diamonds are packed into our luxury golden mask, all working to increase hydration, radiance, and revive tired skin. The clever mask features diamond powder and gold photo-reflective particles that help to bring instant luminosity and radiance to the skin. If you're looking for a wake-me-up mask, this is your go to.
To further your skin's hydration, QUENCH Rejuvenating Mask is a wonderful option, we call it like a drink for the skin! A rich texture and nutritious formula with Mediterranean ingredients of avocado, blackberry, red pepper and many more, alongside our Phirmaderm™ complex to pack a punch for plump, radiant and soft skin again.

Serum
Your serums are to treat the skin of your future and they're hardworking and highly concentrated formulas that everyone needs in a skincare routine.
For the best serum for glowing skin, we'd recommend BE CLEAR Skin Correcting Serum to clarify and brighten the skin. It's a clever serum full of brilliant antioxidants and science-led ingredients to diminish the appearance of uneven skin tone, turn around age spots and blemishes and leave plump, smooth and dewy skin. A special mention to our Kombuchka™ black tea ferment ingredient that increases brightness, lustre and clarity of the skin.

Moisturiser
Welcome to the hydration station where everything is about injecting much needed moisture into the skin to leave it feeling and looking fuller, plump and full of health!
Our DOUBLE CREAM Hydrating Moisturiser is perfect for the job, giving skin intense nourishment, lasting hydration and that all important radiance. Our Phirmaderm™ complex and Mediterranean ingredients like olive, avocado, red pepper, horse chestnut and blackberry are full of hydrating goodness to powerfully transform skin.
If you're thinking of trying a lighter hydrating product, meet IT'S ALL GOOD Nutritious Boost Facial Oil. While you may be thinking oils are still just as heavy, this genius formula is perfect for all skin types as it absorbs quickly to leave soft, smooth and dewy skin. Vitamin E, peach kernel, sunflower and olive oil replenish the skin with essential moisture for that smooth and natural glowing appearance.