Boy oh boy, has skincare come a long way in the last 10-30 years. The level of sophistication, international influence and demand of skincare products is continuing to expand every year, along with our skincare shelves! Especially with the growing sophistication of the internet in bringing us new opportunities to improve our relationship with skin health and understanding more about our skin's needs.
If you had any skincare in the 90s or early 00s, you would associate a facial toner with the iconic 1,2,3 step skincare routine and would probably recoil at the thought of how traditional toner for the face felt in application…tight, stingy, drying…
As a result of those experiences of alcohol heavy toners back in the day, we tend to look at this step and ask the question, "Do I really need a toner? What does it do?" And, of course, we're here to change that.
TONERS OF YORE
Historically, toners positioned in two ways:
To "close" pores, tightening skin. They were packed with "astringent" ingredients, alcohol and we just blindly accepted it came with the feeling of overly tingling, tight, dry skin.
To remove last traces of makeup, sweep away remnants of cleanser.
Those days are gone. Thank goodness!
If you need a toner to support the cleanser with the cleansing function, the cleanser isn't working hard enough. Also, pores don't shrink…they may look smaller but it's ultimately just the skin around them drying out, which is ultimately counterintuitive for oilier skin tendencies, because overly drying out skin will trigger sebum production to react to the skin becoming drier…the cycle of poor skincare decisions continues.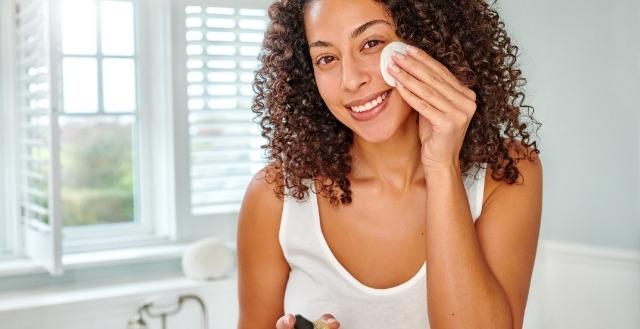 TONERS TODAY
The toning step of a healthy skin regime may now be referred to as "acids" or "essences". This change in terminology reflects the deepening treatment profile of this second step of your healthy skin regime. But none the less your toner is still an important part of your skincare routine.
Basic functions of today's toner or essence:
Restore pH – cleansing can disrupt the pH of the skin, potentially causing imbalance within the acid mantle / hydrolipidic layer of the skin. It can take time to restore naturally, often hours after cleansing, so by supporting this re-balance it controls the skin over-reacting and undoing all the good of cleansing.
Quench – we can all suffer with dehydration within our skin, whatever our skin personality and an essence or toner that is packed with humectants like hyaluronic acid and glycerin, that act to soothe skin and transport.
Exfoliating – also referred to as glycolic acid toner, AHA/BHA/PHA essences. These clever products help remove stubborn dead skin cells, work deeper into the pores to remove stubborn dirt, dissolving the glue that holds them to the epidermis, which dulls skin tone and creates texture on the surface impacting the ability of actives to penetrate effectively. Non-physical exfoliation helps smooth the skin without any micro-abrasion of physical scrubbing.
Boost – supporting the absorption of products that we spend our time and dollars on!
All these functions will support the pursuit of that GLOW we all long and aim for.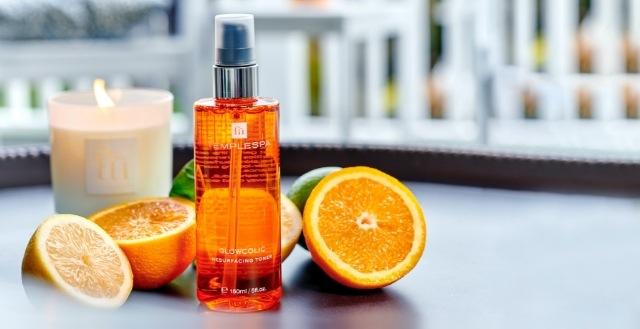 WHICH TONER….ESSENCE….TONIC…..LOTION….
AHHHH!!!
Yes, it can get confusing with differing terminology. That is why we like to keep things simple with clear functions for each product…each member of the TEMPLESPA family has a place and purpose in your skincare routine.
GLOWCOLIC Resurfacing Glycolic Toner $32
This is our best selling AHA glycolic acid toner that is packed with an acid complex (glycolic, mandelic and lactic) to remove dead skin cells gently and effectively without irritation plus protective antioxidants and hydrating hyaluronic acid. This blend of skin-loving ingredients helps skin reveal a more refreshed and brighter texture and tone. This is the best toner for uneven, congested skin or in need of a glowing boost!
TONING ESSENCE Alcohol-Free Hydration Toner $26
Like liquid refreshment for the skin, this helps soothe and calm the complexion and is brimming with goodness, with an ingredient list that reads like a Mediterranean buffet! Tomato to help control sebum, basil oil to nourish and soothe, melon extract to refresh and soften…it goes on. Simply the best for an everyday tone and top up of moisture.
With skincare routines becoming more articulate in terms of product choices and function, these two toners could be used consecutively in your steps to skin luminosity. Use GLOWCOLIC first and then follow with a spritz of TONING ESSENCE to help boost the absorption of actives from your next step skincare, i.e. serum.
In conclusion, toners are far from a product that belongs in the past, relegated to the notion of "do you remember when…." They are a vital, powerful part of your skin regime and you will undoubtedly see the difference using them.