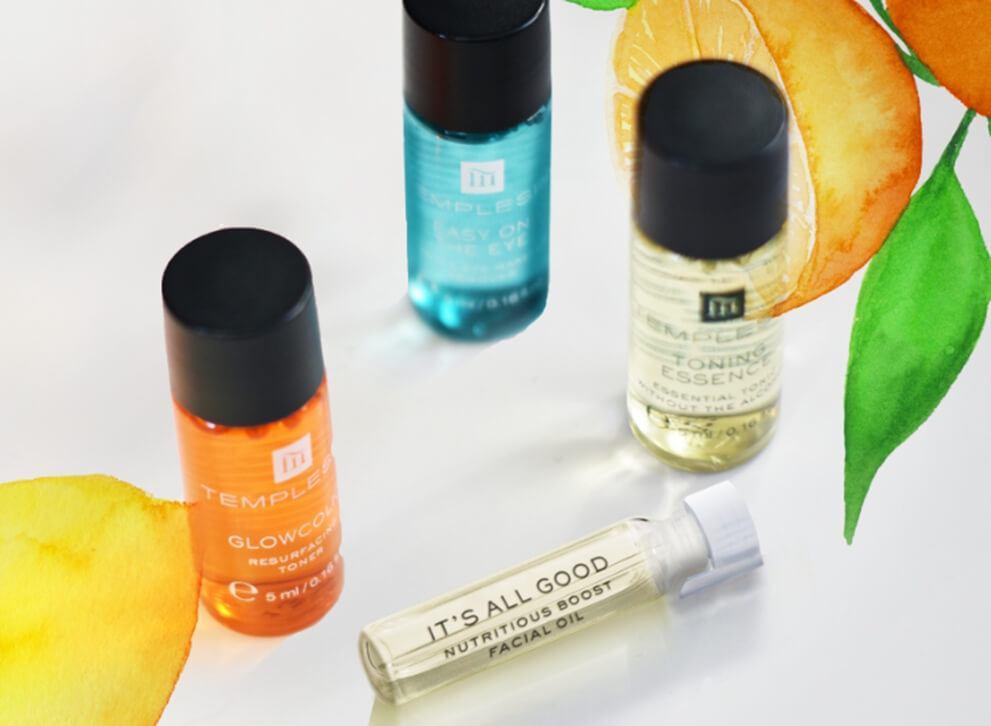 Luxury Liquid Lunch
TEMPLESPA TAPAS
Introducing our skincare tipples of choice!
EASY ON THE EYE
Gentle eye make-up remover
For revitalised, soothed and completely make-up free eyes.
Apply to dampened cotton pads, press onto eyes for a few seconds and gently sweep in a down-wards and out motion.
Mediterranean botanical extracts of camelia tea, eyebright and aloe gel will ensure your eyes are fresh, revitalised & soothed and your eye make-up completely gone.
Wonderfully calming, soothing, and full to the brim with goodness to ensure pores are refined, toned and hydrated. Leaves skin radiant and refreshed.
TONING ESSENCE
Essential tonic
without the alcohol
Refining, balancing and double cleansing toner.
Apply 2-3 sprays onto a cotton wool pad and wipe over face.
GLOWCOLIC
Resurfacing toner
Exfoliates & brightens with glycolic acid, vitamin C & lactic acid.
After cleansing, apply to a cotton wool pad, sweep across face, neck and décolletage, avoiding the eye area.
Packed full of glycolic, lactic and mandelic acid, vitamin C & AHA's, our resurfacing toner exfoliates, brightens and refreshes dull, lacklustre skin leaving it radiant and healthy-looking.
An exquisite facial treatment oil with targeted active ingredients formulated to visibly plump, smooth and rebalance skin.
IT'S ALL GOOD
Nutritious boost facial oil
After cleansing and toning, apply a few drops of IT'S ALL GOOD to quench skin and seal in hydration. Massage into face, neck and décolletage using upwards and outward movement. Leave to sink in for 5 minutes before applying your moisturiser.