GLOWCOLIC is an exfoliating toner with natural glycolic acid that smooths, nourishes and balances your skin's complexion.
Mediterranean extracts of grape, apple, lemon and orange, rich in natural acids and vitamin c, combined with glycolic, mandelic and lactic acids to provide a refreshing formulation. It gently lifts away dead skin cells and impurities to renew and nourish, evening out the skin's surface for a brighter, healthier-looking complexion that sings with radiance.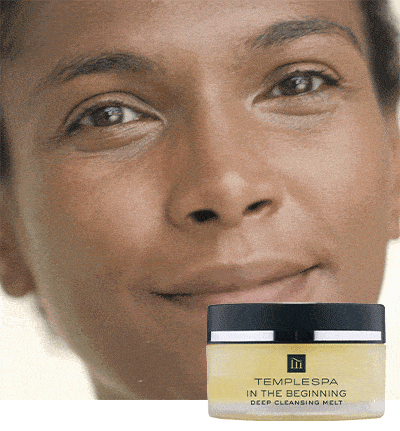 CLEANSE
Deep clean with an oil-based cleanser like IN THE BEGINNING.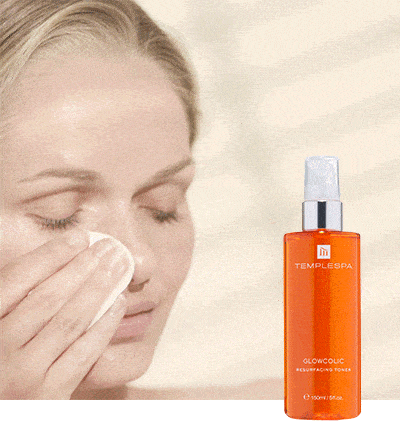 TONE
Instant radiance and luminosity from new GLOWCOLIC, resurfacing toner.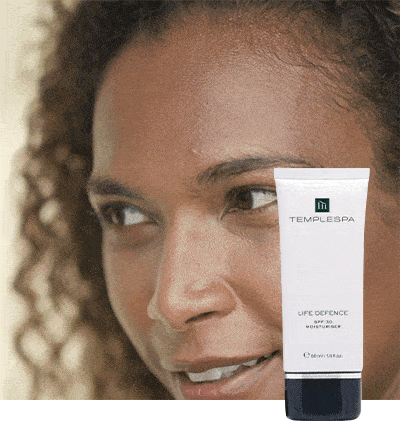 HYDRATE + PROTECT
Hydrate and protect from the sun, blue light and pollution with LIFE DEFENCE SPF30.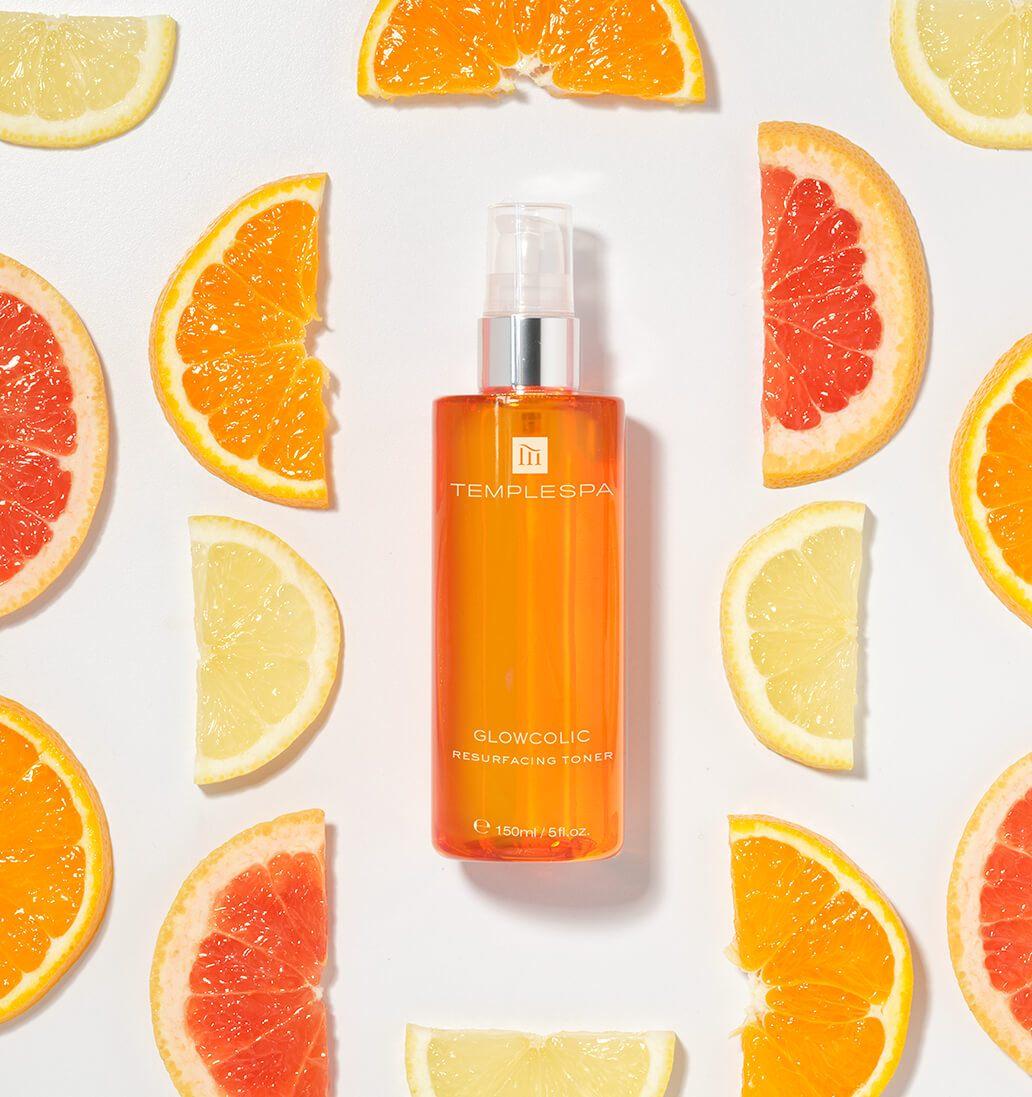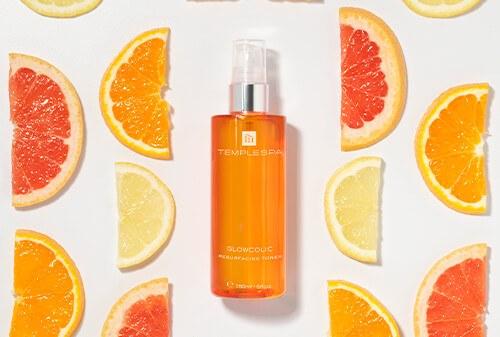 GLOWCOLIC
RESURFACING TONER
exfoliates & brightens
Benefits
Tones and refreshes dull, lacklustre skin
Gently buffs away dead skin cells and impurities
Smooths & promotes a more even skin complexion
Leaves skin radiant and healthy-looking
£20.00 | 150ml
HOW TO USE
GLOWCOLIC?
It's really flexible, you can be your own facialist and decide how to add it to your skincare routine for best results for your skin.
Check how your skin is currently feeling and looking and use when in need of a radiant boost and a healthy glow or a decongest – for some that might be every day.
You can use it to complement TONING ESSENCE once a week for a decongest and a deep clean. You know those times when you feel like your skin is carrying the week's dirt and grime.
Every other day to keep your skin exfoliated regularly. At night to wake with bright and fresh skin.
Daily (if you are a dedicated and experienced fan of glycolic acids and familiar with the great benefits they bring to the skin).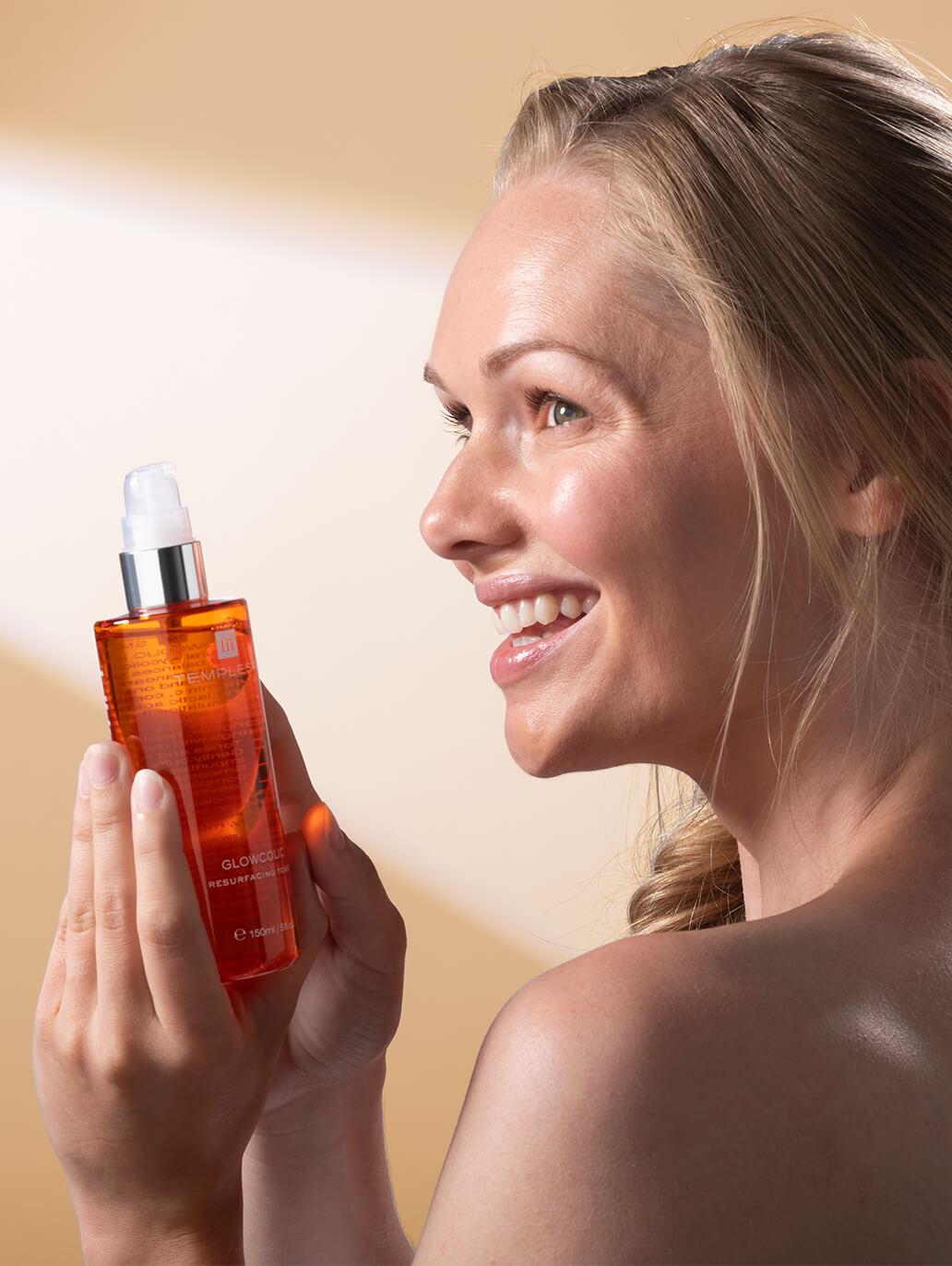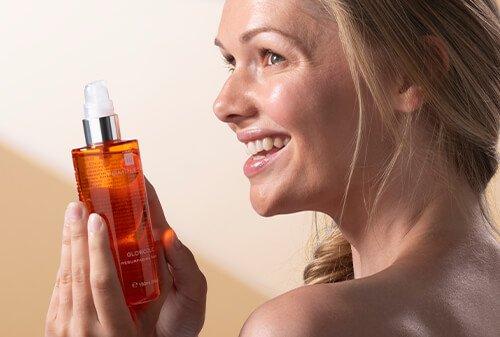 WHAT DID THE INDEPENDENT
USER TRIAL SAY?
Don't just take our word for it... here's what our independent user trials said.
'Probably the best toner I've ever used. It's everything a toner should be and I've had so many compliments about my skin since I started using it.'
'This glycolic toner had a subtle scent which I liked.
It made a huge difference to my skin. My skin tone is more even and I look refreshed, I have had many people commenting my skin looks really good. As a result, I am more confident in having make up free days.'
'My skin looked better after a couple of uses and has improved so much after the whole month!'
'This fits in really well in my skin care routine, it has definitely given my skin a boost. My skin looks and feels brighter and fresher I would like to buy this product.'
THIS TONER LEAVES
MY SKIN INSTANTLY
GLOWCOLIC contains a blend of acids which can cause skin sensitivity in some people. We have patched tested the product and it is suitable for all skin types, but would recommend if you have sensitive skin to do a patch test first and discontinue use if you have any type of reaction.
You can use it to complement TONING ESSENCE once a week for a decongest and a deep clean. You know those times when you feel like your skin is carrying the week's dirt and grime.
You should feel some instant benefit when using GLOWCOLIC and like any other skin care product regular and consistent use is key. You should notice improved results after 2-3 weeks of use.
The use of alpha hydroxy acids (AHAs) such as glycolic, mandelic and lactic acids in cosmetics and toiletries is perfectly safe. The ingredients are restricted in their inclusion level to ensure that they are safe to use.
Yes, a glycolic toner exfoliates the skin so new skin cells are exposed more quickly. These newer skin cells are more susceptible to damage from UVA and so we highly recommend using a broad spectrum sunscreen with UVA filters during use and when you skin is in daylight - LIFE DEFENCE is of course the best to reach for and will ensure your skin stays protected. If using GLOWCOLIC at night then there is no need to add a sunscreen afterwards. The product does carry a sun risk warning to flag this. Its great at making skin shiny and new but you'll need a SPF to protect it.
Increasing the frequency of use will ensure you see the benefits of use quicker than a daily application.
GLOWCOLIC won't whiten or bleach your skin. GLOWCOLIC is designed to brighten the skin. It does this by removing dead skin cells and smoothing the surface of your skin. The brightening effect is created when light reflects off the smoother surface of your skin. This is why rough uneven skin can appear dull and grey.
Skin whitening is where a product provides a treatment that effectively bleaches the skin providing you with a different skin tone to the one you have naturally. Glowcolic doesn't contain any ingredients that bleach or change your natural skin tone.
It would be good to use GLOWCOLIC prior to using an instant fake or self-tan to exfoliate and prep the skin for a nice even application. Using GLOWCOLIC after self-tan application would fade your tan faster as would any exfoliating action but it will keep the skin and tan fresh looking and even and ready for a new application.
With over exposure to natural sun light our skin can suffer from hyperpigmentation and we get dark uneven patches of skin on our faces. GLOWCOLIC has been formulated to help exfoliate the top layers of the skin where this uneven pigmentation occurs. The newer skin cells that then emerge will be based on your natural skin tone and over time with regular use your skin tone will become lighter as the hyperpigmentation is reduced..