Ready to elevate your skin care routine with the best glowing skin products from TEMPLESPA? Well then keep reading! In this blog we'll explore the best serum for glowing skin, how to get a radiant complexion every day and why our best-selling cleansing balm makeup remover is the underdog that your skin care routine has been missing.
Choose a good cleanser
When thinking about the best products for glowing skin, our cleanser pick is, of course, IN THE BEGINNING Deep Cleansing Melt. Massage in our buttery balm cleanser, feel the texture melt into the skin and the unique crystalline exfoliating pieces buff away dead skin cells and deliver rich vitamin E for dewy, glowing skin. For a radiant complexion, the best skin care routines start with our award-winning cleanser!
Add exfoliation
The key to smoother, brighter and more radiant complexions is exfoliation, and keeping a regular routine with it! We love to use glycolic acid for the skin, a buzzword ingredient that many skin care fans are familiar with, as it aids in dissolving the bonds of which dead skin cells cling onto. Once they're released, your skin is left glowing with health as new fresh skin cells can push through! You'll find this AHA ingredient, along with others like malic, mandelic and lactic in our GLOWCOLIC Resurfacing Toner and MOST REVEALING Glowing Skin Oxygen Peel, both great products to introduce to your routine for effective acid exfoliation. Just don't forget to protect your skin afterwards with an SPF!
Pack on vitamin c
Vitamin c = glowing skin, it's what we turn to as a vitamin for when we need an energising boost and vitality. The same works for our skin and LET'S CONCENTRATE Skin Glowing Serum has a next level vitamin c ingredient to seriously drive beautifully glowing skin. The clever gelee serum for glowing skin instantly absorbs into the skin, a combination of ascorbyl glucoside aka vitamin c, alpha arbutin, sodium hyaluronic, lemon fruit water, orange essential oil and a blend of hard-working minerals ingredients work to reveal brighter, smoother and more even skin tone. Looking for the best serum for glowing skin? You've found it here.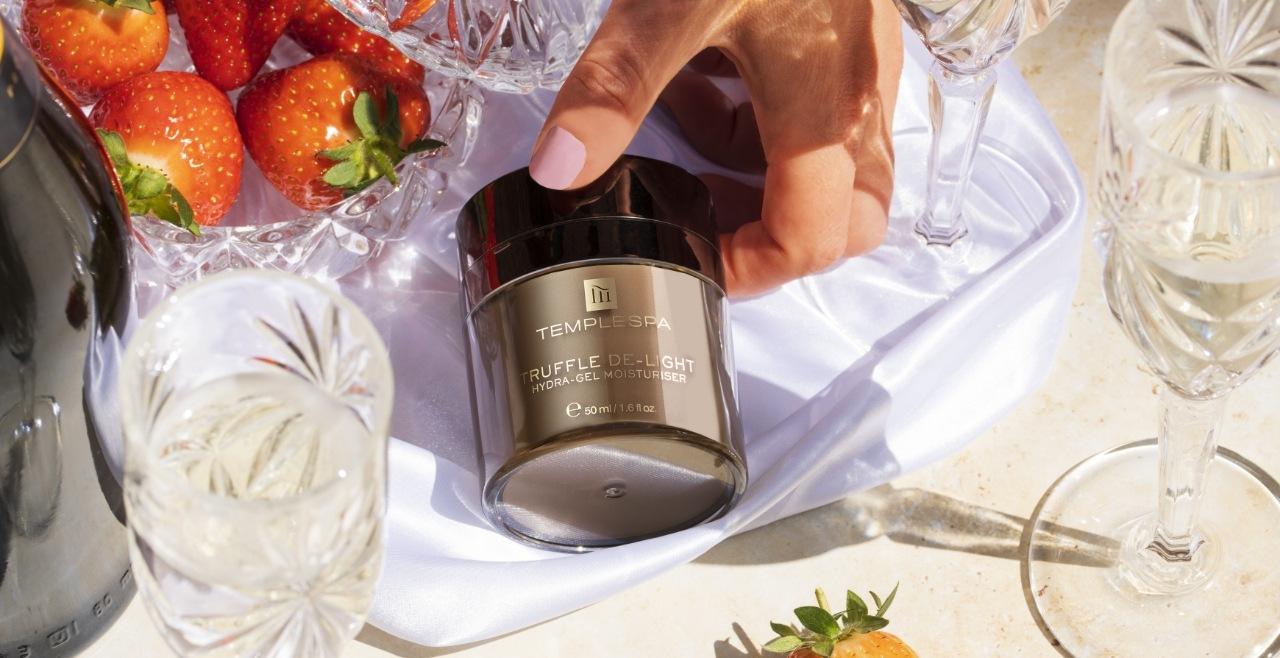 Opt for a radiant moisturizer
The final part of your skin care routine! When looking for a moisturizer for glowing skin, opt for ingredients which are hydrating and plumping with the addition of light reflecting properties for that glow from within. For drier skin types or those in need of a richer cream, SKIN TRUFFLE Ultra Radiance Moisturiser includes black truffles, diamonds, champagne, silk and gold ingredients, all associated with celebration, to bring instant radiant complexions. The award-winning moisturizer aids in replenishing and revitalising the skin, so you'll be glowing all day long! If you prefer a lighter moisturizer in comparison, TRUFFLE DE-LIGHT Hydra-Gel Moisturiser is the perfect alternative. All the wonderful ingredients you can find in SKIN TRUFFLE with the benefits of a lightly hydrating texture, reducing the appearance of ageing and keeping the skin matte.